2021 Lexus IS Details

With much anticipation, Lexus finally revealed the updated 2021 Lexus IS sedan this past week during a Facebook Live event on June 15, 2020. While we have been starved for some good looking new model reveals as of late, the North Park Lexus RGV team is happy to report that we are all thrilled to see the exterior and interior updates for the 2021 Lexus IS sedan and we are eagerly anticipating its arrival in late fall of this year. Proving that the Lexus IS is far more than just a pretty face, Lexus published a detailed press release highlighting the sports car's agility and athleticism purely dedicated to enhancing driving performance and driver experience.
Key Details on 2021 Lexus IS
New 2021 IS first Lexus to debut Lexus Driving Signature
Tested and developed a new technical center in Shimoyama, Japan
Driving performance enhanced through rigidity, chassis and suspension enhancements
New Lexus Safety System+ 2.5 offers enhanced safety features
New multimedia system with an available 10.3-inch touchscreen

The Lexus Press Release on 2021 IS gives great information and detail on the Lexus IS, its evolution, and its expectations. For Lexus fans, enthusiasts and IS drivers, we recommend checking out the entire press release directly from Lexus by clicking here.
For anyone looking for a 'Cliff's Notes' version of what to expect for the 2021 Lexus IS, then look no further.  In this post, we are going to take you on a quick, but still, exhilarating ride to see what's new for the 2021 Lexus IS sedan.
New Colors for 2021 Lexus IS
Lexus colors and especially new Lexus colors immediately grab our attention.  Lexus announced that there will be five new exterior colors available on 2021 IS that will be added to five other popular exterior color choices that are all currently available. Your color options for 2021 include:
Iridium
Cloudburst Gray
Matador Red Mica (not exactly new, but a comeback counts, apparently)
Infrared*
Grecian Water
Ultra White
Eminent White Pearl
Atomic Silver
Caviar Mica
Ultrasonic Blue Mica 2.0*
* It sounds like both Infrared and Ultrasonic Blue Mica 2.0 will be unique to F SPORT models and therefore will include a $595 premium paint charge.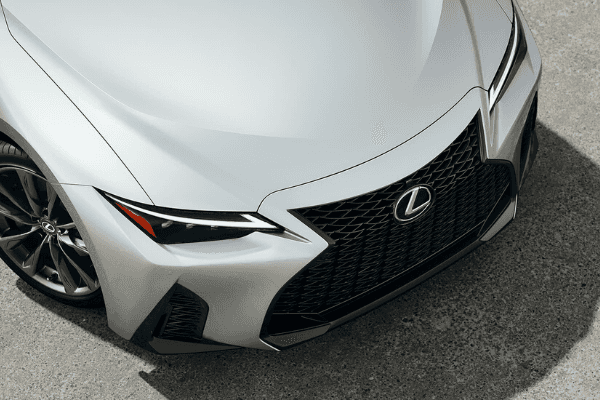 New Lights and Lines for 2021 IS
The 2021 Lexus IS is stunning. New slender headlamps are perfectly fitted on the new IS and feature daytime running lights with a sharp L-shape signature that runs across the top of the newly developed compact and lightweight lamps. The new lights are matched by lowered side character lines that extend the length of the body and through to the rear of the trunk. It is in the back where we really get a good look at the new 2021 IS design language. No doubt all eyes will be drawn immediately to the L-shaped blade-style lightbar that spans across the rear of the new Lexus IS. Check it out below…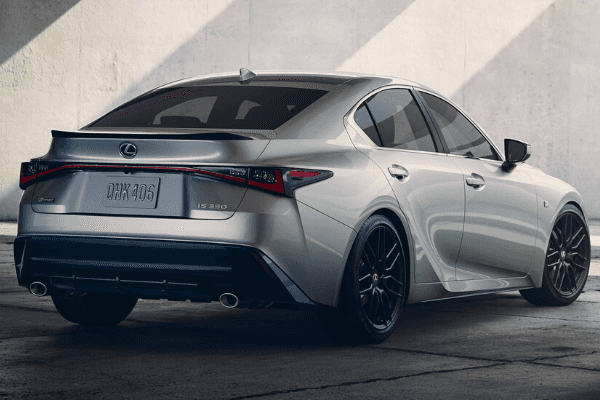 Interior Details and Tech Specs
Step inside the 2021 Lexus IS and you'll see both luxury and performance details blended throughout its sleek interior. While you will find many of the same features carried over from the previous year, the 2021 model does not disappoint by including a few new (and needed) additions. 2021 IS features a standard 8-inch touchscreen that is nearly 3 inches closer to the driver for easy touchscreen access to the controls. Even better, the available navigation system is a stunning 10.3-inch touchscreen and all-new multimedia will come with Apple CarPlay, Android Auto, and Amazon Alexa integration.
Turning things up, the 2021 Lexus IS has also enhanced its Mark Levinson Premium Surround Sound Audio System by expanding the number of speakers from 15 with 835 watts of power to a 17-speaker system with a new amplifier offering 1,800 watts. The new Mark Levinson system aimed to reduce interference, improve output, and improve overall sound quality with new EQ tuning. Rear surround speakers have been changed to tweeter/mid-range combination Unity speakers and the audio amplifier has enhanced Quantum Logic Surround for playback compressed sound sources.  Trust us, this matters.  When you're driving in a car with this much eye-appeal, you need the sound system to match – and, thankfully, it sounds like this 2021 Lexus IS will do the trick by providing a 7.1 surround sound listening experience that is not to be missed.  We invite everyone to come to take an audio test drive this fall at North Park Lexus Rio Grande Valley!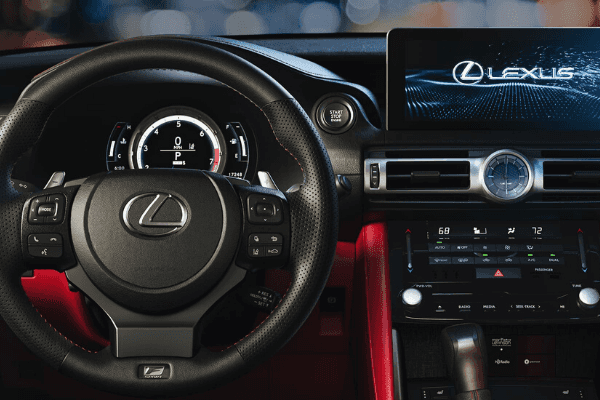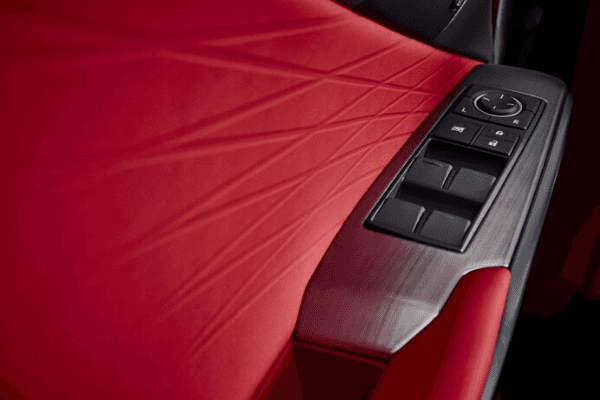 F-Sport, Our Second Favorite "F" Word
Lexus has decided to restructure the IS F SPORT lineup for the 2021 model year by only offering it on the IS 350 sedan powered by the 311-horsepower 3.5-liter V6 engine.  The new IS 350 F SPORT features a host of visual and performance details that immediately set it apart from the rest of the model lineup. You can easily spot an IS F SPORT by looking for its unique front bumper with functional aerodynamic enhancements, rear bumper, grille surround, rear lip spoiler, rocker molding, and more. The stunning 19-inch F SPORT wheels include a unique center cap and larger rear tires for added performance. They also include a cool air intake with a sound generator and an F SPORT exhaust, diffuser, and F SPORT badges on the sides and rear of the vehicle.
Step inside the new IS 350 F SPORT and you'll see stainless-steel scuff plates and stylish F SPORT front seats that are available in a new Circuit Red option. 2021 IS F SPORT will include standard heated and ventilated front seats, a heated leather-wrapped steering wheel, F SPORT combination instrumentation meter and unique F SPORT accelerator pedal, brake pedal and footrest (our favorite for driving barefoot!)
2021 IS F SPORT models can take serious drivers to the level they need with the addition of a Dynamic Handling Package (DHP) that includes Adaptive Variable Suspension (AVS). The DHP IS models include a lighter 19-inch forged alloy BBS wheels finished in matte black.  Just wait, there's more; these new wheels are not only stunning visually, but they are approximately 4 pounds lighter per wheel compared to the standard 19-inch F SPORT wheel.
The RWD F SPORT models with the new DHP offer a host of impressive performance upgrades including:
Torsen Limited-Slip Differential (LSD)
Drive Mode Select with Sport S+ and Custom Modes
Unique Carbon-Fiber Rear Spoiler and Side-View Mirror Caps
Center Console Knee Pad with Contrast Stitching
Lexus Card Key (our favorite!)

Since its debut 20 years ago in the United States, the Lexus IS has thrilled and delighted drivers. With the arrival of the 2021 model, the new Lexus IS looks to expand upon the legacy it has made in the compact luxury sports car segment over the past two decades. Soon to be available in approximately 40 counties around the world, including the US, Japan, and other counties in Asia, the Lexus IS is truly a global vehicle.
Explore More with Lexus AR Play App
In support of the launch of the new 2021 Lexus IS, we are happy to tell anyone that hasn't already heard, that you can actually explore the 2021 Lexus IS right now by downloading the new Lexus AR Play app for iOS and Android devices in the App Store and Google Play. Download the immersive augmented reality app and explore the new Lexus in an interactive way, with the ability to virtually walk around the new IS, zoom in and out, and explore the 360-degree exterior and interior views.
Explore more and definitely see more of the 2021 Lexus IS when it arrives at North Park Lexus Rio Grande Valley this fall.  Don't forget to check back often for updates and please let us know your thoughts on the new Lexus IS below in the comments section.