How To Disinfect a Car

As we all adjust to this new normal, it is important to remain vigilant by taking all necessary precautions to protect our friends, family, and neighbors. Experts recommend social distancing, thoroughly washing your hands with soap and water for 20 seconds, and regularly cleaning and disinfecting surfaces. That is why we wanted to share some helpful information from Lexus on how you can clean and disinfect high touch areas in the interior and exterior of your vehicle.  You can learn more about the cleaning and disinfection procedures as recommended by the CDC here.
Tips for Disinfecting a Car
It is important to stay safe and use products and procedures for cleaning your car as found in your vehicle owners manuals. You should also remember that you must be clean (and safe) in order to make the car clean and safe. That means following the instructions on any product used including any instruction to wear gloves or additional personal protective equipment. The CDC recommends that you wear disposable gloves when disinfecting surfaces and that you discard them immediately after use.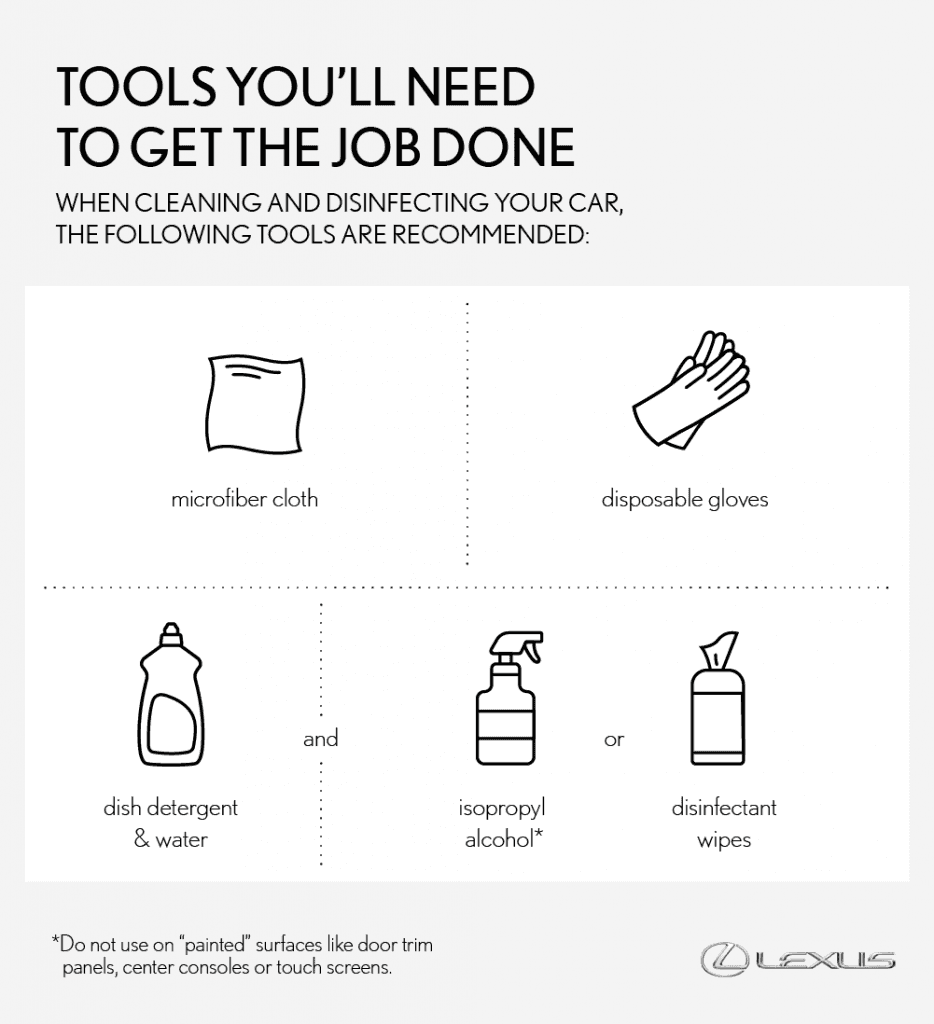 Once you have the tools you'll need to get the job done, thank you, Lexus! You can now focus your efforts on cleaning and disinfecting the key interior and exterior touchpoints.
Key Interior Touchpoints to Disinfect
Interior Door Levers/Window & Door Lock Controls
Upper Door Trims/Armrest
Power Seat Switches
HVAC Vents/Controls
Steering Wheel Buttons
Ignition Switch
Radio Various Buttons
Center Console & Glove Box Button/Handle
Cup Holders
Shift Lever
Seat Belt Adjusters/Buckles/Locks
Seats
Inner Mirror/Visors/Assist Handles/Moon Roof Shade Handle/Maps Lamps & Various Buttons (SOS/Homelink)
Key Exterior Touchpoints to Disinfect
All Exterior Handles
Fuel Lid/Gas Cap
Trunk or Tailgate Button/Pull
Key Fob
Front Hood Area/Lever (if vehicle serviced)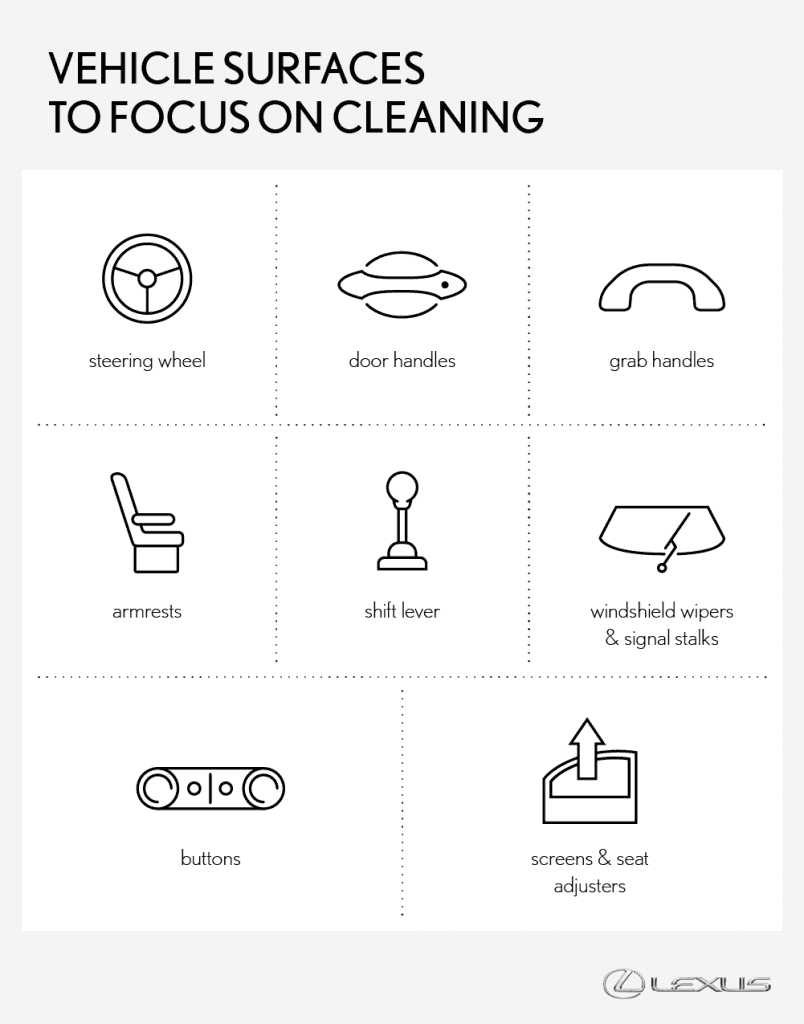 Lexus has provided great tips and guidance on how to disinfect a car. To learn more and to get the complete Lexus Guidance on How to Clean and Disinfect a Vehicle Interior/Exterior, you can click below to view and download the PDF or visit the Lexus Drivers website for these and other great tips.
Vehicle Interior/Exterior Cleaning and Disinfecting Procedures
Stay Safe!