Lexus GS Black Line Special Edition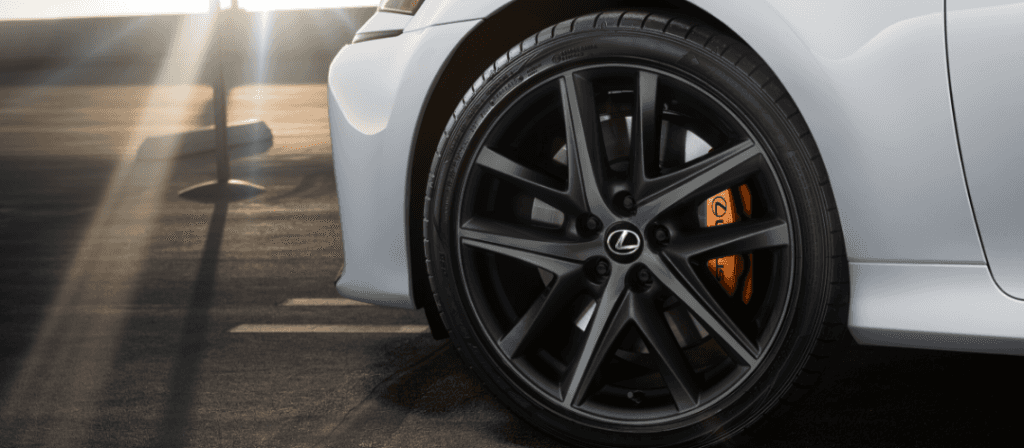 Already dubbed as the "best ever" GS, Lexus announced on April 23, 2020, that a Special Edition Black Line GS 350 F SPORT will be built this Summer.  First launched in 1993, the Lexus Grand Sedan has been taking drivers on thrill rides for over 27 years, and, with the arrival of the new Special Edition GS Black Line this Summer, it may become a collector's dream car as the GS model line drives off into the sunset.
Limited Production GS at North Park Lexus RGV
Stunning Gloss Black F SPORT wheels and orange brake calipers immediately catch our eye.  Limited to only 200 units, the new Lexus GS Black Line Special Edition arrives at North Park Lexus RGV late summer 2020 (fingers crossed) and is available to reserve today.  The 2020 GS Black Line enhances the GS 350 F SPORT model with track-tuned chassis enhancements and exclusive interior and exterior details including the mouth-watering Gloss Black F SPORT wheels you can see here.  From the wheels to the Gloss Black grille inserts in the front and a specialized black spoiler in the rear, the Special Edition GS is sure to turn heads.  Available in either Ultra White or Caviar exterior colors, the GS BlackLine is accentuated with black outer mirror caps that put the cherry on top for this sleek new style.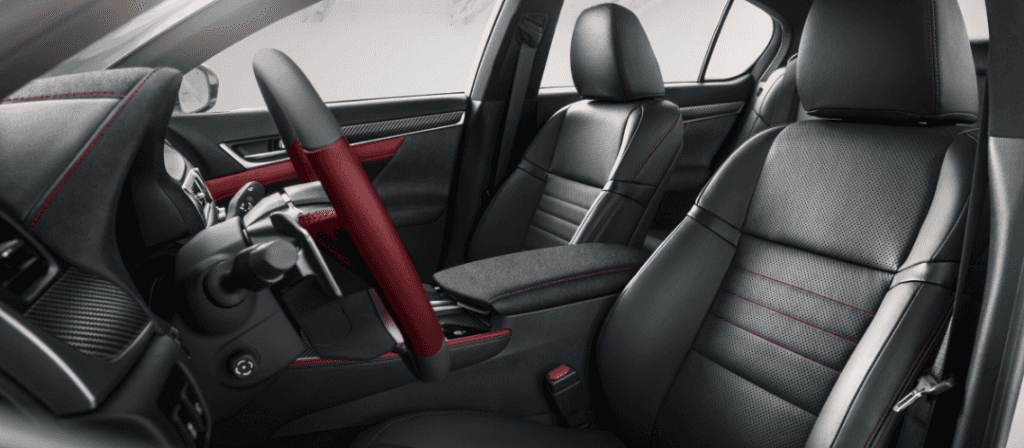 Step inside the 2020 Lexus GS Black Line and you're enveloped by a sophisticated interior cabin featuring red accents on the door panels, steering wheel, and center console.  Black Leather contrasts perfectly with its Rioja Red accents, the Black Line GS creates a sense of luxury and exhilaration.  Lexus enthusiasts will also enjoy the special edition carbon fiber ornamentation and Alcantara trim seen on the instrument panel, console and armrest – all completed with such craftsmanship that only Lexus can deliver.
To take the exclusivity of the GS Black Line up another level, new Lexus owners of the Special Edition GS will receive the new, custom Lexus Black Line Zero Haliburton luggage set featuring an Edge Lightweight 22″ Continental Carry-on and a 26″ Medium Travel Case, both in black.  A first for the Black Line series, the Zero Halliburton luggage set was exclusively designed for Lexus.  The stunning luggage set features several customized features, including a cushion-cut, chrome logo badge laser-etched with Zero Halliburton for Lexus, an interior lining embroidered with the Intersect by Lexus Spindle Grille Art and interior compression panels with a Lexus embossed leather logo badge.  The exclusive details on this luggage set are fitting and memorable since the GS was the first Lexus model to feature the now-iconic Lexus Spindle Grille in 2012.  With stunning style and memorable details, the 2020 GS Black Line Special Edition may very well be the "best ever" GS.  Reserve yours today from our team at North Park Lexus Rio Grande Valley and don't forget to check back often for updates on pricing and arrival dates.