What is the Difference Between the Lexus GX and LX?

Texas drivers looking for the best luxury SUV to fit their lifestyle, family size, and budget often ask us what is the difference between the Lexus GX 460 and LX 570? Both Lexus SUVs offer impressive off-roading capability, versatile seating options, full-time 4WD, and a host of luxury amenities.  So, which Lexus is the best choice for you?  Discover the difference between the GX and LX while conveniently shopping online then contact our team at North Park Lexus RGV to ask if you qualify for any of our new Lexus GX lease specials or Lexus LX finance offers.
What is the difference between the Lexus GX and LX?
The Lexus GX is rugged meets refined, while the Lexus LX is luxury meets commanding capability.  The GX and LX are two large, luxury SUVs that share many comparable, impressive off-roading capabilities but each respective model contains unique characteristics that both define and differentiate the two highly-rated SUVs.  Lexus drivers and fans of large SUVs often compare the GX and LX and many new-to-Lexus guests quickly learn that first impressions can be deceiving.  While the Lexus GX 460 comes across as more utilitarian up-front, it often surprises new Lexus drivers with its luxe interior details and smooth, quiet ride.  The Lexus LX 570, on the other hand, is dressed to kill; dripping with luxury details that disguise its real-world off-roading capability.*  The two large Lexus SUVs have earned impressive reviews and real-world off-roading recommendations yet despite these surprising similarities, both the GX and LX offer distinct differences that are important to consider when deciding on the best SUV for you and your family.  Let's take a deeper dive and explore the key differences between the GX and LX.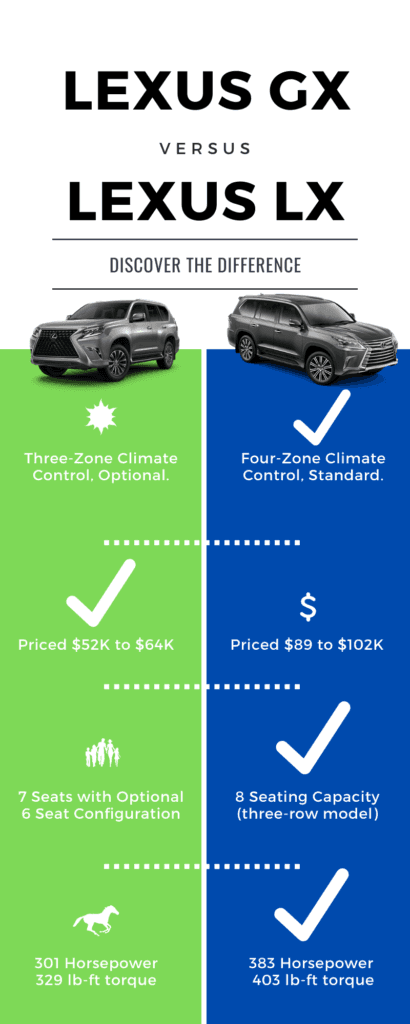 * Hard to imagine anyone would take a luxury SUV off-roading?  You have to check out YouTube and watch the Lexus LX seamlessly crossing a river in Mongolia, the GX taking on the Canadian ice and snow, or both models racing in the desert – truly impressive!

Rear Door Design
The Lexus GX and LX SUVs are both versatile and offer drivers and passengers several options to access their respective cargo spaces.  A key difference between the two models, however, is how you access the rear cargo space.  On the Lexus GX 460, you can load and unload bags, groceries, and more by opening and closing its rear, swing-open door or via the convenient pop-open glass hatch.  The Lexus LX 570, on the other hand, offers a rear power door coupled with its own pop-open rear glass hatch.  To determine which design works best for your garage and weekend plans, contact our team at North Park Lexus Rio Grande Valley to assist by taking over either (or both) Lexus models to your local home or office in McAllen or San Juan, Texas.

Third-Row Seat
Another key difference between the Lexus GX 460 and Lexus LX 570 is the third-row seating and their respective stow-away options. The Lexus GX 460 offers a convenient fold-flat third-row seat that opens a wide and clear area for rear cargo space and storage when not in use.  Another important characteristic to note is that only the GX Luxury build will come with a power fold-flat capability allowing you to simply press a button to have the seats fold up and down into the floor.  The more commonly purchased Premium and Standard GX builds come with a manually operated third-row seat that folds flat into the floor when not in use which is also easy to use and access.

The Lexus LX 570 comes with power-folding third-row seats that can stow up and on the side of the rear cargo area when not in use.   These side-stowing seats still make way for a remarkably large cargo capacity measuring 81.3-cubic feet.  Compared to the GX's impressive cargo capacity of 64.7-cubic feet, the Lexus LX provides ample storage for weekend warriors and busy families on the go.
Another key difference in regards to the third-row seating is that the Lexus LX is now available in a two-row model option that opens up an even greater amount of cargo space for those not requiring the additional passenger seating.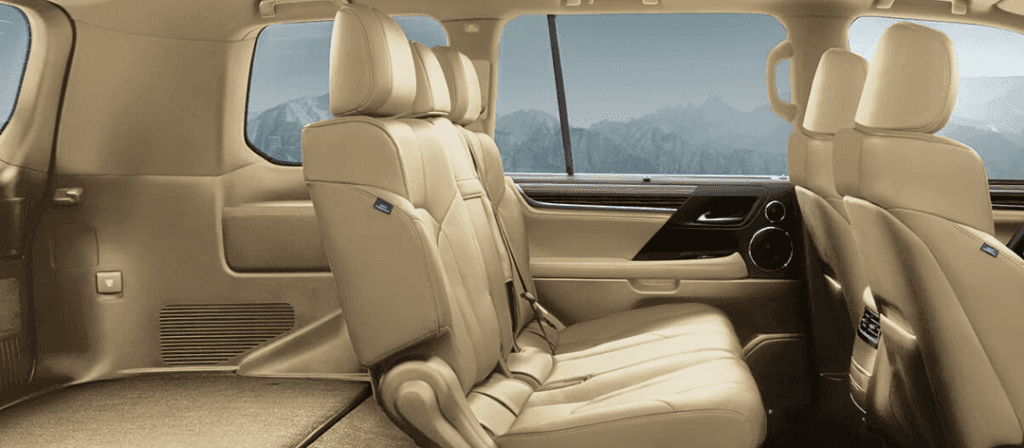 Multimedia and Navigation Systems
The Lexus GX and Lexus LX appear to be vastly different when comparing the available multimedia and entertainment systems in either model.  Step inside the Lexus GX and returning Lexus owners are often thrilled to find a familiar 8-inch multimedia and navigation display that provides convenient touch-screen access utilizing previous-generation Lexus software.  The new LX, on the other hand, offers the largest split screen in its class.  The 12.3-inch high-resolution multimedia display provides immediate, simultaneous access to audio, climate, and other various systems, including navigation that is controlled with the Lexus Remote Touch Device.  Both systems have their merits and while both are available with Siri Eyes Free and Subscription-Free Traffic and Weather Updates via HD Radio, you may find the multimedia systems in the Lexus GX and LX to offer different yet equally enjoyable systems.

Rear-Seat Entertainment
Both models offer different entertainment options for its rear passengers.  While the Lexus GX 460 can technically be built to include its variation of Lexus Factory Rear Seat Entertainment (seen below), it is not commonly built – although special order may be available.  The popular choice for new and current Lexus GX owners in Texas needing some extra entertainment for the family is to have dealer-installed dual-screen DVD entertainment systems added to their Lexus – something we offer here at North Park Lexus RGV.
In comparison, the Lexus LX is commonly built to include its new Lexus dual-screen Rear-Seat Entertainment System. The Rear-Seat Entertainment Package on the LX offers massive LCD screens mounted to the back of the front headrests but enables rear passengers to choose how they want to use the entertainment system: watching a video or playing a game console or audio player.
Check out the difference between the two factory-installed DVD Systems in both models below and contact our team at North Park Lexus RGV to learn more about the dealer-installed DVD option.

The new Lexus GX and Lexus LX SUV, for sale at our Lexus dealer near Corpus Christi, TX, are both perfect picks for the weekend warriors and fun families that want to conquer their commutes in a comfortable and stylish luxury vehicle.  To see, feel and experience the popular Lexus GX and the luxurious Lexus LX for yourself, we invite you to visit with our professional and friendly team at North Park Lexus Rio Grande Valley.  Find out more by visiting the Lexus dealership serving the Rio Grande Valley and get behind the wheel of a new or L/Certified Lexus SUV today.