WIN A GOLF TRIP OF A LIFETIME TO PEBBLE BEACH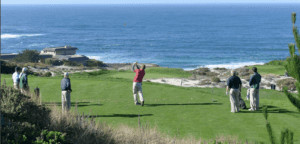 ENTER TO WIN THE PEBBLE BEACH RAFFLE
1 CHANCE, 2 PEOPLE, 3 COURSES, 4 DAYS
One lucky winner will attend and play in the 2020 Lexus Champions for Charity National Championship, along with a companion, at the Pebble Beach Resorts in Pebble Beach, California on December 9-13, 2020.
The winner will receive:
Two (2) roundtrip tickets from Southwest Airlines
Resort accommodations for two (2) people on property at pebble beach.
The opportunity to compete in the 2020 Lexus Champions for Charity National Championship for a $100,000 charity purse.
CHANCE TO WIN IS ONLY $100
All proceeds benefit VAMOS College Scholarship recipients
TO PARTICIPATE & DONATE CLICK HERE
You will be redirected to the vamosscholars page. Click on the "Donate Today" button at the bottom of the page to make a $100 dollar donation and enter the raffle.
About Lexus Champions for Charity:
Those with a passion for golf can appreciate the qualities of balance, grace, and precision – words that aptly describe Lexus automobiles. Those who play the game also appreciate the virtues of competition, generosity and charity – all of which can be found in the Lexus Champions for Charity Program. Beginning with 63 events in 1989, Lexus Champions for Charity has helped raise over $450 million for worthy causes throughout the country. This year, the program will assist charitable organizations at over 150 events nationwide. Lexus Champions for Charity pairs great golf with philanthropy, as amateur golfers participate in tournaments held at the finest golf and country clubs throughout the United States. Lexus supports the local tournaments by making a donation to each associated charity, while offering competitors the opportunity to win a Lexus and represent their charity in the annual Lexus Champions for Charity National Championship at Pebble Beach Resorts in December. The charities represented by the Top 10 Net Division and Top 5 Gross Division teams will divide a $100,000 purse, with the winning net team claiming $17,500 for its hometown charity.
LOCATION:
Pebble Beach Golf Links
The Links at Spanish Bay
Spyglass Hill Golf Course
TOURNAMENT FORMAT:
54-hole event, three days of play, 18 holes/day
Two-person better ball, Amateurs Only
All players must have verified handicaps and must present handicap cards at tournament registration; percentage of handicap will be used
PRIZE STRUCTURE – $100,000 CHARITY PURSE:
$70,000 divided between 1st – 10th place in the NET DIVISION
$30,000 divided between 1st – 5 th place in the GROSS DIVISION
Daily hole-in-one opportunities to win Lexus automobiles